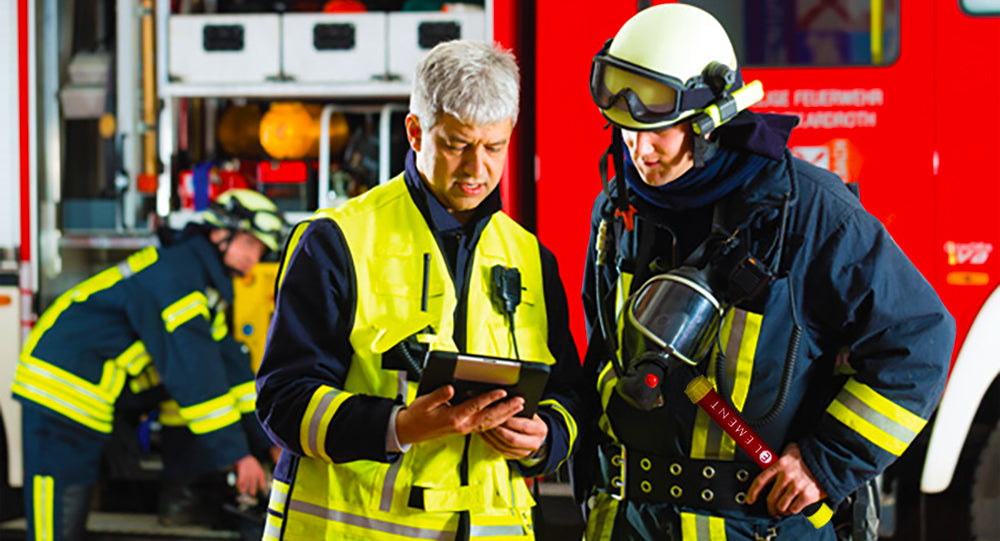 FREQUENTLY ASKED QUESTIONS
If your question is not answered below, please contact us directly. We are happy to assist.
Collapsible content
IS ELEMENT AFFECTED BY EXTREME WEATHER & CAN IT GET WET? CAN I STORE IT IN MY CAR?

Element has been tested to work effectively in temperatures from -140F to +320F. Moreover Element's solid construction and no moving parts makes it unaffected by harsh environments or humidity. Element can safely be stored in damp and wet environments, provided that the yellow cap covering the tip stays present allowing the tip to remain dry. 

Element can safely be stored in vehicles that live in hot climates. 
IS THE GAS SAFE TO BREATHE?

Element's discharge is safe to breathe and is both non-corrosive and non-toxic. General safe practices are always recommended and the discharge should not be aimed at a person's face.
DOES ELEMENT MAKE A MESS LIKE A TRADITIONAL EXTINGUISHER?

Element's discharge gas is totally clean and will not leave any residue. During discharge a chemical reaction does take place which occasionally expels a trace amount of soot from the casing. Even in the most extreme instance, the net total of discharge is so minuscule compared to a traditional extinguisher that it is effectively considered to be non-existent. Beyond the clean nature of the discharge Element is non-corrosive, non-toxic, and environmentally safe.
HOW DOES ELEMENT WORK?

Element works by fighting fires on the molecular level. Its gas chemically interrupts the chain of combustion effectively extinguishing a fire without making any mess and without removing surrounding oxygen.

For full technical explanation, read How Element Fire Extinguishers Operate.
HOW DO YOU BEST APPROACH A FIRE WITH AN ELEMENT EXTINGUISHER?

Unlike a dry chemical extinguisher that combats a blaze by depositing a large amount of solid powder on the fire, an Element extinguisher fights a fire by releasing a gas. This gas attaches itself to the oxygen surrounding the fire robbing its ability to stick to the chain of combustion (without affecting ones ability to breath that oxygen). The goal is therefore to use the gas coming out the Element extinguisher to create a 'cloud of containment' around a fire. Creating a cloud that prevents any outside and un-attached oxygen from getting to the fire is essential and is the same strategy that should also be used with a Halon/Halotron or CO2 extinguisher.


The two worst things you can do when fighting a fire with a gas extinguisher is to be too close or to rush the process. Being very close to a fire means that a cloud cannot be formed blocking any new oxygen that will continue to feed the flame. This is particularly problematic in an isolated pan situation where being too close will only chase the flames around. Rushing the process by moving the extinguisher around a lot also prevents a cloud from being formed and diminishes the performance of the extinguisher.


The best technique is to take advantage of the long discharge time offered by the Element extinguisher and to approach a fire from a moderate distance progressively getting closer to its source. During the approach, move the extinguisher slowly around the fire always directing towards the center. This will contain the fire and allow the gas the ability to work.


Tight areas with lots of pockets (like the engine bay of a car) brings out the strengths of the Element extinguisher as the gas, which is heavier than air, will fill all the voids not directly accessible; both putting out a fire and preventing a re-flash. 
DOES ELEMENT REQUIRE SERVICE & DOES IT EXPIRE?

Element's solid construction, no moving parts, and lack of compressed gas (unlike a traditional fire extinguisher) means it will never need any service or upkeep. In addition the solid chemical that makes up the Element extinguisher has no effective expiration.
IS ELEMENT CERTIFIED?

Originating in Italy, Element has been certified by CE Europe, TUV, and the RINA maritime authority. Institutionally it has been tested and certified for use by multiple international military and police groups who have adopted it for active use.
IS ELEMENT PORSCHE CLUB OF AMERICA (PCA) APPROVED?  

YES. Element fire extinguishers have been approved by the Porsche Club
of America for use in their High Performance Track and Driver Education events as a substitute for a traditional fire bottle. 
CAN ELEMENT BE SHIPPED OUTSIDE OF NORTH OR SOUTH AMERICA?

Element is certified for international transport by surface (land or sea) only. Any method of shipping that involves air (including personal or checked baggage on commercial aircraft) is prohibited by national and international safety regulations. For this reason we only ship Element by surface transportation methods and do not offer express shipping
options. 


We do not ship to PO boxes / APO.
HOW BIG A FIRE CAN ELEMENT EXTINGUISH?

Element is tested to extinguish fires consistent with traditional small hand-held extinguishers. As a rule of thumb, small extinguishers (regardless of type) are for incipient stage fires only which have the approximate volume of a small trash can. Fires larger than this size are beyond the scope of handheld extinguishers and should only be tackled by trained professionals with the correct sized tools for the task.
IS ELEMENT SUITABLE FOR OUTDOOR LIVE EMBER FIRES?

While Element is capable of extinguishing a live ember fire, the heat that continues to be present in the embers can easily re-ignite especially in the present of wind. Live ember fires are best tackled by using water as its cooling effect is the most effective way of preventing re-ignition.
IS ELEMENT AFFECTED BY WIND?

All extinguishers that rely on gas to extinguish a fire(C02,
Halon, Halotron, Element, Etc.) are adversely affected by wind. These extinguishers
rely on creating a containment of the oxygen surrounding a fire and wind
currents can interfere with their performance. Fires taking place in large outdoor
areas subject to wind are best tackled by extinguishers that deposit a liquid
or a solid as these are better suited to that environment. Gas extinguishers including
Element really excel in tight environments where traditional extinguishers
struggle to deposit their discharge. In these instances, Element is able to get
to areas where traditional extinguishers cannot and prove to be very effective
at fighting fires.
HOW LARGE IS ELEMENT?

E50 is 30cm long, 3.2cm diameter & weighs 210 grams.

E100 is 33cm long, 4cm diameter & 330 grams in weight.
WHERE IS ELEMENT MADE?

Element is designed and manufactured in Italy. 
IS ELEMENT SAFE AROUND CHILDREN AND PETS?

Element discharges a non-toxic gas that will not harm children and animals. General safe practices are always recommended and the discharge should not be aimed directly at a child or animal.
IS ELEMENT ONLY FOR CARS?

NO! Fire does not play favorites of where it burns and Element is perfect for any environment where a fire may occur. This includes homes, boats, motorcycles, ATV's/ UTV's, campers, garages, offices, workshops, trailers, and more.
HOW DOES ELEMENT COMPARE?